SpinPower™
Cycling Products
---
SpinPower™ Multipurpose Disposable Cleaning Wipes
SpinPower™
Care Products
---
SpinPower™ Heart Rate
Monitor Electrode Gel
SpinPower™ Cycling Products
SpinPower™ Lubes
Consider the SpinPower™ Lube Sampler - three lubes for only $4!
Formulated with a unique blend of high-quality, environmentally safe, renewable waxes, SpinPower™ Dry Chain Lube provides unprecedented protection for all chains and gears.
An advanced low-viscosity lubricant, SpinPower™ Superior Chain Lube provides long-lasting protection for chains, cables and gears.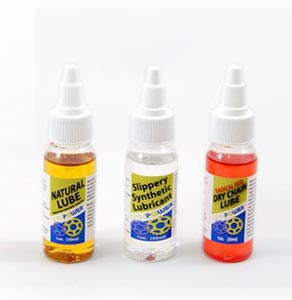 Formulated with renewable vegetable oils, SpinPower™ Natural Chain Lube is biodegradable and environmentally safe.
SpinPower™ Slippery Spitt Chain Lube is formulated with synthetic oils and anti-wear and anti-friction additives. It's environmentally degradable and provides a protective film.
These high-rated lubes are available in 1-ounce,
4-ounce and 8-ounce sizes.
We usually provide the bike shopes with 1-ounce size lubes. It's a great incentive for them to give to the customer, for example with a bike purchase or after a major repair.