SpinPower™
Cycling Products
---
SpinPower™ Multipurpose Disposable Cleaning Wipes
SpinPower™
Care Products
---
SpinPower™ Heart Rate
Monitor Electrode Gel
SpinPower™ Cycling Products
SpinPower™ Bike Cleaning Kit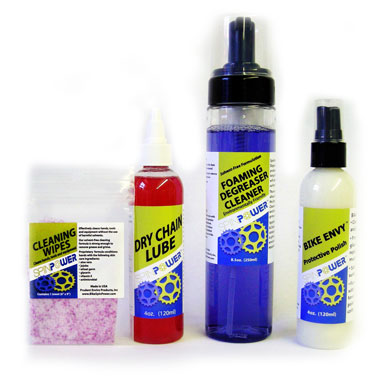 The essential products to degrease, clean, lubricate and polish your bike.

This kit includes the following:
8.5-ounces of Professional Degreaser in a foaming dispenser. The dispenser mixes the product with air to create a thick-rich foam. The foam allows the product to have a greater contact time with the surface its applied to.
1-ounces of lube of your choice.
4-ounces of our Bike Envy protective bike polish. Can be used on bike frames and tires to help shed mud. Frames and components can be buffed to a beautiful shine.
Single pack of our Multipurpose Cleaning Wipes. These wipes combine a powerful cleaner along with a textured scrubbing surface, eliminating the need for water. The heavy-duty wipe suspends and absorbs grime from your hands and other surfaces for easy clean-up.
Email us about this product now!