SpinPower™
Cycling Products
---
SpinPower™ Multipurpose Disposable Cleaning Wipes
SpinPower™
Care Products
---
SpinPower™ Heart Rate
Monitor Electrode Gel
SpinPower™Care Products
SpinPower™ Multipurpose Disposable Cleaning Wipes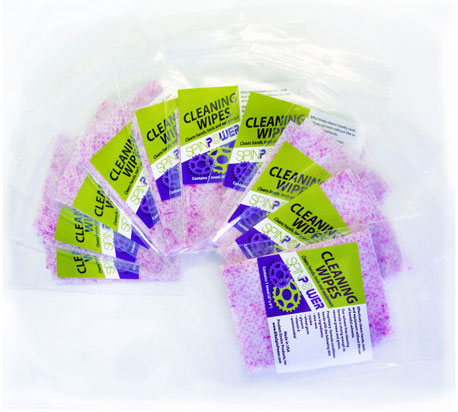 Convenient towels combine a powerful cleaner along with a textured scrubbing surface, eliminating the need for water. The heavy-duty wipe suspends and absorbs grime from your hands and other surfaces for easy clean-up. One side of the SpinPower™ Multipurpose Disposable Cleaning Wipe has a textured surface for extra deep cleaning, while the other side is smooth for general purpose cleaning.
Our cleaning formula is strong enough to remove grease, tar, ink and other hard to remove grime from your hands while our formula conditions your hands with the following skin care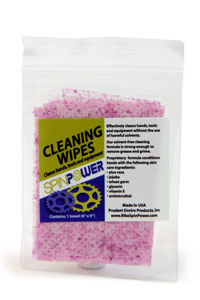 ingredients: aloe vera, jojoba, wheat germ extract, glycerin and vitamin E. SpinPower™ Multipurpose Disposable Cleaning Wipes contain an antimicrobial agent. Our specific formula is solvent-free and environmentally safe.
Environmentally friendly and solvent-free
One heavy-duty side and one smooth general purpose side
Convenient and economical to use
Light citrus scent
Strong textured wipe
Contains skin care ingredients with an antimicrobial
Email us about this product now!