SpinPower™
Cycling Products
---
SpinPower™ Multipurpose Disposable Cleaning Wipes
SpinPower™
Care Products
---
SpinPower™ Heart Rate
Monitor Electrode Gel
SpinPower™ Cycling Products
SpinPower™ Superior Chain Lube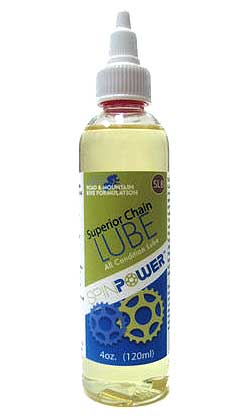 An advanced low-viscosity lubricant, SpinPower™ Superior Chain Lube provides long-lasting protection for chains, cables and gears.
It is formulated with a unique blend of proprietary ingredients that help reduce wear and friction without the use of wax.
SpinPower™ Superior Chain Lube is the perfect "all condition" lube that is excellent for both road and mountain bikes.
Created from a unique blend of environmentally safe ingredients
Promotes smooth shifting
Works with both road and mountain bikes
Penetrates quickly to lubricate internal surfaces
Contains rust and corrosion inhibitors
Perfect for riding in any weather condition
Provides a thin protective film that won't build up or become tacky
Reduced wear and friction
Excellent for both road and mountains bikes
Available in 1-ounce, 4-ounce, and 8-ounce sizes.
Email us about this product now!