SpinPower™
Cycling Products
---
SpinPower™ Multipurpose Disposable Cleaning Wipes
SpinPower™
Care Products
---
SpinPower™ Heart Rate
Monitor Electrode Gel
SpinPower™ Cycling Products
SpinPower™ Bike Degreaser Kit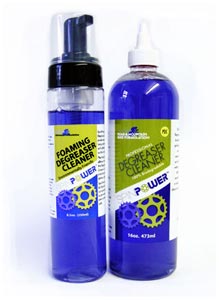 Enjoy the best of both worlds, with the SpinPower™ Bike Degreaser Kit. You receive 16oz of SpinPower™ Professional Degreaser and 8.5oz of SpinPower™ Foaming Degreaser, for tougher cleaning jobs. Refill your foaming dispenser for future uses!
This kit includes the following:
8.5-ounces of Professional Foaming Degreaser. The dispenser mixes the product with air to create a thick-rich foam. The foam allows the product to have a greater contact time with the surface its applied to.
16-ounces of the Professional Degreaser, a concentrated professional grade degreaser that is designed to remove grease, grim, oil and dirt.
Refillable foaming dispenser!
Email us about this product now!